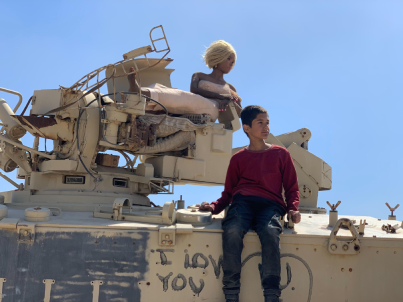 Original Name: Janain Mualaqa
English Name: Hanging Gardens
Year: 2022
Run Time: 117 Minutes
Language: Arabic
Type (Colour/ Black & White): Colour
Country: Iraq, Palestine, Saudi Arabia, Egypt, UK
Director: Ahmed Yassin Al Daradji
Producer: Huda Al Kadhimi, Margaret Glover, May Odeh, Mohamed Hefzy, Daniel Ziskind
Cast: Wissam Diyaa, Jawad Al Shakarji, Hussain Muhammad Jalil, Akram Mazen Ali
Screenplay: Ahmed Yassin Al Daradji, Margaret Glover
Cinematographer: Duraid Munajim
Editor: Kamal El Mallakh
Sound Designer: Rana Eid
Music Composer: Suad Bushnaq
Production Company: Ishtar Iraq Film Production, Odeh Films
World Sales: True Colours

Festivals:
Venice FF
Busan IFF
Singapore IFF
IFF India
Red Sea IFF
Director's Selected Filmography:
2017 Stray (Short)
2013 Children of God (Short)
Director's Biography: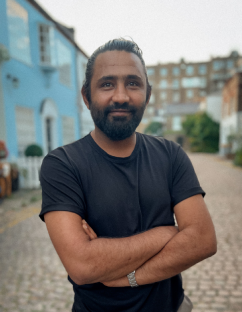 An alumnus of the London Film School, Ahmed Yassin Al Daradji first garnered critical interest with his MA graduation film, Children of God (2013). The film was screened at numerous international film festivals, including the Clermont-Ferrand International Short FF, and won both the FIPRESCI Prize at the Dubai FF and the Best Live Action Short at the Seoul Guro Kids FF. His debut feature, Hanging Gardens, was invited to Orizzonti Extra program at the Venice FF.
Synopsis:
Brothers As'ad and Taha barely scrape a living as rubbish pickers in 'Hanging Gardens'—the local nickname for Baghdad's smouldering dumps. One day, As'ad discovers an American sex doll. When he brings it home and presents her as a thing of beauty, Taha assaults his little brother for ruining their reputation. As'ad retreats to Hanging Gardens to make a new home for himself and his miraculous find. When As'ad and his friend, Amir, discover the doll can speak, they teach her the language of seduction in Arabic and set her to work. Business rockets, raising their profile lucratively with local teens and dangerously with the local patriarch's enforcers.
As'ad questions their exploitation of the doll, yet before he can save her from further degradation, she's kidnapped. As'ad and Amir go after the prime suspect, only to discover that he's turned informant. The patriarch has As'ad and Amir kidnapped so that he can exact his own cruel and humiliating punishments. As'ad survives to complete the journey he began and reconcile himself to the choices he's made on his own terms.