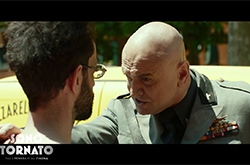 Original Name: Sono Tornato
English name: I'm Back
Year: 2018
Run time: 100'
Language: Italian
Type (Colour/ Black & white): Colour
Country: Italy
Director: Luca Miniero
Producer: Marco Cohen, Fabrizio Donvito, Benedetto Habib
Cast: Massimo Popolizio, Frank Matano, Stefania Rocca
Screenplay: Nicola Guaglianone, Luca Miniero
Cinematographer: Guido Michelotti
Editor: Valentina Mariani
Sound Designer: Maricetta Lombardo
Music Composer: Pasquale Catalano
Costume Designer: Eleonora Rella
Production Designer: Tonino Zera
Production Company: Indiana Production with Vision Distribution
World Sales: True Colours Glorious Films Srl
World Sales Phone: +39 06 3735 2334
World Sales Email: info@truecolours.it
Festivals :
Cape Town IFF 2018
Los Angeles - Italia 2018
Rencontres du cinéma italien de Grenoble 2018
Villerupt Italian Film Festival 2018
Arras Film Festival 2018
Selected Filmography
This Night Is Still Ours 2008
Benvenuti al Sud 2010
Benvenuti al Nord 2012
A Boss in the Living Room 2014
Director's Biography:
Born in Naples, after graduating in Letters, Miniero moved to Milan where he started working as a director of commercial shorts. In 1998 he started collaborating with Paolo Genovese co-writing and co-directing the short film La scoperta di Walter; the duo made their feature film debut in 2002, with the critical acclaimed comedy film A Neapolitan Spell. Miniero made his solo-directing debut in 2010, directing the box office hit Benvenuti al Sud.
Synopsis
Mussolini, incredulous and bewildered, wakes up in the middle of Piazza Vittorio, in contemporary Rome. Aware that the war is over, he finds that everything has totally changed. People ignore him, until young filmmaker Andrea Canaletti mistakes him for a comedian and offers him a leading role in the documentary he is making. Mussolini grabs the opportunity as he secretly hopes to win his power back. The unlikely duo give life to a surrealistic relationship during which they travel throughout Italy. Little by little, Mussolini becomes ever more popular and is offered a leading role in a TV show.