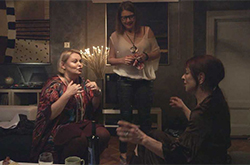 Original Name: Lada Kamenski
English Name: Lada Kamenski
Year:2018
Run Time: 71'
Language: Croatian
Type (Colour/ Black & White): Colour
Country: Croatia
Director: Sara Hribar & Marko Santic
Producer: Jure Pavlović, Bojan Kanjera
Cast: Frano Mašković, Nataša Dorčić, Ksenija Marinković, Doris Šarić-Kukuljica
Screenplay: Sara Hribar
Cinematographer: Vjekoslav Skledar
Editor: Tomislav Pavlic
Sound Designer: Tihomir Vrbanec
Music Composer: Vid Hribar
Costume Designer: Lidija Sertić
Production Designer: Dubravko Djuran, Ružica Dobranić
Production Company: Sekvenca
World Sales: Kinorama
World Sales Phone: 385 1 231 6787
World Sales Email: ankica@kinorama.hr
Festivals :
Montréal World FF 2018
Pula FF 2018
Split FF 2018
Zagreb FF 2018
Selected Filmography
Sara Hribar
Lada Lamenski 2018
Marko Santic
Seduce Me 2013
Lada Lamenski 2018
Director's Biography:
Sara Hribar
Sara studied film and TV directing at the Academy of Dramatic Art in Zagreb. She wrote and directed several praised short films, and contributed to feature anthology films Zagreb Stories Vol. 2 (2012) and Transmania (2016). She has written and directed several children shows and drama series. Lada Kamenski is her feature debut.

Marko Šantić
Marko graduated in film and TV directing from the Academy of Theatre, Radio, Film and Television in Ljubljana. After directing several prize-winning short films, his feature debut, Seduce Me (2013), was awarded Special Mention at Warsaw IFF.
Synopsis
Lada Kamenski is a seamstress in a failing Eastern European textile factory. Factory is slowly shutting down and Lada and her colleagues are losing everything they worked for their entire lives. Three middle-aged actresses are facing an opportunity of a lifetime: playing a leading role in a movie about Lada's struggle. For them this tragedy is a gift of canvass on which they would finally prove their talent and craft. Feminist issues clash with existential struggle, with a dash of complex human pathology. Only one woman will keep her job. Only one woman will seize the opportunity. Who is the real Lada, after all?