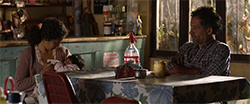 Original name: Las Acacias
English name: Las Acacias
Year: 2011
Run time: 85'
Language: Spanish, Guarani
Type (Colour/ Black & white): Colour
Country: Argentina, Spain
Director: Pablo Giorgelli
Producer: Diego Amson, Alex Zito, Ariel Rotter, Verónica Cura
Cast: Germán de Silva, Hebe Duarte, Nayra Calle Mamani
Screenplay: Pablo Giorgelli, Salvador Roselli
Cinematographer: Diego Poleri
Editor: María Astrauskas
Sound Designer: Martin Litmanovich
Costume Designer: Laura Donari
Production Designer: Yamila Fontan
Production Company: AireCine, Utópica Cine, Proyecto Experience
World Sales: Urban Distribution Int.
World Sales Phone: 33 1 48 40 46 55
World Sales Email: contact@urbandistrib.com
Festivals
Cannes 2011
Toronto IFF 2011
San Sebastián IFF2011
BFI London FF 2011
Selected Filmography:
El último sueño (Doc) 1993
Las Acacias 2011
Invisible 2017

Director's Biography:

Argentinean filmmaker Pablo Giorgelli started in film as an editor of films like Moebius (1995), and Solo Por Hoy (2001), among others and had formerly directed the short El Último Sueño (1993). Las Acacias marks the feature directorial debut of Giorgelli, with which he participated in the Critics' Week and won the Caméra d'Or (Best First Film) at the 2011 Cannes Festival. The film was also awarded with 30 international prizes.

Synopsis:

Rubén is a solitary truck driver who for years has been driving from Asunción in Paraguay to Buenos Aires hauling wood. But the journey he's about to make today will be different: that morning, at a stop on the road near Asunción, Jacinta arrives with someone else, the little Anahí, her 8 month old daughter, who will travel with them. It's not the best start for Rubén. As the kilometres go by, Rubén and Jacinta get along increasingly well. Slowly, despite their difficulties in communicating, they start understanding one another. Neither tells much about their lives. But neither do they ask much. It is a journey of few words, yet anything but silent. On the point of arriving at their destination, both share the same desire: they don't want the journey to end.