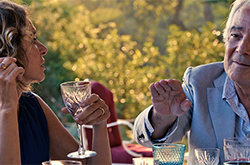 Original Name: Les Estivants
English Name: Summer House
Year: 2018
Run time: 127'
Language: French
Type (Colour/ Black & white): Colour
Country: France, Italy
Director: Valeria Bruni Tedeschi
Producer: Alexandra Henochsberg , Patrick Sobelman, Angelo Barbagallo
Cast: Valeria Bruni Tedeschi, Pierre Arditi, Valeria Golino , Noémie Lvovsky ,Yolande Moreau ,Marisa Borini, Bruno Raffaelli, Riccardo Scamarcio
Screenplay: Valeria Bruni Tedeschi , Agnès de Sacy
Cinematographer: Jeanne Lapoirie
Editor: Anne Weil
Sound Designer: François Waledisch
Music Composer: Philippe Miller
Costume Designer: Caroline de Vivaise, Marie Bouvier
Production Designer: Emmanuelle Duplay
Production Company: Ad Vitam, Ex Nihilo, Rai Cinema, BiBi Films
World Sales: Playtime (ex Films Distribution)
World Sales Phone: +33 1 53 10 33 99
World Sales Email: info@playtime.group
Festivals
Venice Film Festival 2018
Stockholm IFF 2018
Seville European Film Festival 2018
MAMI Mumbai Film Festival 2018
Selected Filmography:
It's Easier for a Camel... 2003
Actresses 2007
A Castle in Italy 2013
A Young Girl in Her Nineties (Doc) 2016
Director's Biography:
Valeria Bruni Tedeschi is an Italian-French actress, screenwriter, and filmmaker. As an actress, her career spans over 3 decades. She has won many awards at film festivals, and award functions as an actress. Her directorial debut, It's Easier for a Camel (2003) received several awards at the Tribeca Film Festival. Her 2007 film, Actresses, received the Special Jury Prize in Un Certain Regard at the Cannes Film Festival, and, in 2013, A Castle in Italy was nominated for the Palme d'Or.
Synopsis
A large and beautiful property on the French Riviera. A place that seems out of time and sheltered from the rest of the world. Anna goes there with her daughter for a few days of vacation. Amidst her family, friends and the house staff, Anna has to handle her fresh break-up with her partner and the writing of her next film.Behind their laughter, anger and secrets emerge fears, desires and power relations. Everyone shuts out the rumblings of the world and must face the mysteries of their own existence.