Original name: Mantícora
English name: Manticore
Year: 2022
Run time: 115 Minutes
Language: Spanish
Type (Colour/ Black & white): Colour
Country: Spain
Director: Carlos Vermut
Producers: Pedro Hernández, Alex Lafuente
Cast: Nacho Sánchez, Zoe Stein
Screenplay: Carlos Vermut
Cinematographer: Alana Mejía González
Editor: Emma Tusell
Sound Designer: Antonio Mejías, Roberto Fernández
Music Composer: Damián Schwartz
Production Company: Aquí y Allí Films, Bteam Pictures
World Sales: Film Factory

Festivals:
Toronto IFF
BFI London FF
Tokyo IFF
Thessaloniki IFF
IFF India
Director's Selected Filmography:
2018 Quién te Cantará
2014 Magical Girl
2011 Diamond Flash
Director's Biography: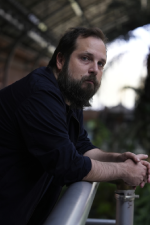 Carlos Vermut wrote and directed his first feature film, Diamond Flash in 2011. In 2014, he wrote and directed his second feature film Magical Girl, winning the Golden Shell for Best Film and the Silver Shell for Best Director at the San Sebastian IFF. The film was presented at the Official Selection of the Toronto IFF and was nominated for seven Goya Awards. With his third feature film, Quién Te Cantará, Carlos Vermut builds one of the most acclaimed films of 2018. The film was presented at the Toronto and San Sebastian IFF.
Synopsis:
Julián works from his laptop, preferring the seclusion of home office. He designs monsters and other creatures for video games. When a fire breaks out and he jumps to the rescue, saving a boy's life, he throws his own off its tracks. His relationship with the student Diana is meant to offer him stability. Salvation in the form of an ordinary life seems within reach, but the image that Julián projects of himself is increasingly called into question. A spiral has long been set in motion that threatens to pull him into the abyss.