Original name: Mediterranean Fever
English name: Mediterranean Fever
Year: 2022
Run time: 108 Minutes
Language: Arabic
Type (Colour/ Black & white): Colour
Country: Palestine, Germany, France, Cyprus, Qatar
Director: Maha Haj
Producers: Baher Aghbariya, Thanassis Karathanos, Martin Hampel, Juliette Lepoutre, Pierre Menahem, Marios Piperides, Janine Teerling
Cast: Amer Hlehel, Ashraf Farah, Anat Hadid, Samir Elias, Cynthia Saleem, Shaden Kanboura
Screenplay: Maha Haj
Cinematographer: Antoine Heberle
Editor: Véronique Lange
Sound Designer: Jorg Weimann, Adrian Baumeister, Florian Marquardt, Henry Uhl
Music Composer: Munder Odeh
Costume Designer: Hamada Attalah
Production Designer: Andreas Antoniou
Production Company: Majdal Films, Pallas Film, Still Moving, Amp Filmworks
World Sales: Luxbox Films
World Sales Phone: + 33 171.37.99.34
World Sales Email: info@luxboxfilms.com

Festivals:
Cannes Un Certain Regard
Hong Kong IFF
Sarajevo IFF
Vancouver IFF
Chicago IFF
Director's Selected Filmography:
2016 Personal Affairs
2010 Behind These Walls (Doc)
2009 Oranges (Short)
Director's Biography: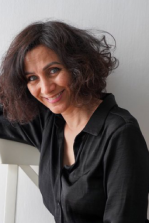 Maha Haj (b. Nazareth, 1970), graduated from the Hebrew University of Jerusalem in English and Arabic literature. Her cinematic experience was derived from her work as an artistic designer in the productions of The Time That Remain by Elia Suleiman, The Attack by Ziad Douairi, as well as On the Hill by Rafael Natjari. She wrote and directed the short film Oranges (2009) and the documentary Behind These Walls (2010). In 2015 she shot her first feature film Personal Affairs which was selected in 2016 Cannes Un Certain Regard. The film also won the Best Feature Award in 2016 Haifa FF and the Mediterranean FF of Montpellier's Critics' Award.
Synopsis:
Waleed (40) lives in Haifa with his wife and children and dreams of a writing career while suffering from chronic depression. He develops a close relationship with his neighbour (a small- time crook) with an ulterior plot in mind. While the scheme turns into an unexpected friendship between the two men, it leads them into a journey of dark encounters.