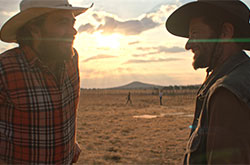 Original name: Nuestro Tiempo
English name: Our Time
Year: 2018
Run time: 173'
Language: Spanish, English
Type (Colour/ Black & white): Colour
Country: Mexico, France, Germany, Denmark, Sweden
Director: Carlos Reygadas
Producer: Jaime Romandia, Carlos Reygadas
Cast: Carlos Reygadas, Natalia López, Phil Burgers
Screenplay: Carlos Reygadas
Cinematographer: Diego García
Editor: Carlos Reygadas
Sound Designer: Raul Locatelli
Costume Designer: Stephanie Brewster
Production Designer: Emmanuel Picault
Production Company: Mantarraya, NoDream Cinema, Snowglobe, Luxbox, ZDF, FOPROCINE, MER FILM, Film i Väst, Detalle Films, Bord Cadre films, CNC
World Sales: The Match Factory
World Sales Phone: +49 221 539 709-0
World Sales Email: info@matchfactory.de
Festivals:
Venice FF 2018
Busan IFF 2018
Toronto IFF 2018
San Sebastián IFF 2018
MAMI 2018
Selected Filmography:
Japan (2002)
Battle In Heaven (2005)
Silent Light (2007)
Post Tenebras Lux (2012)
Director's Biography:
Carlos Reygadas is a Mexican filmmaker. He studied Law, and later specialised in armed conflict law and the use of force in London. After quitting the Mexican foreign service he made four short films in Belgium before filming Japón (2002), which was presented at the Cannes in 2002, where it received a special mention for the Camera d'or. Reygadas premiered his second film, Battle in Heaven (2005) in competition at Cannes. Also at Cannes he was awarded the jury prize in 2007 for Silent Light, and the Best Director award for Post Tenebras Lux (2012).
Synopsis
Juan and Ester live on their remote cattle ranch with their children. It's a very calm, private existence — one they both want to protect. The couple has until now enjoyed an open relationship but when Ester falls in love with an American horse trainer, Phil, who works in the area, she stops sharing details of her affair with Juan. He begins compulsively spying on his wife. The pain of not being in control forces him to question their relationship and he loses himself in turbid, jealous emotions.