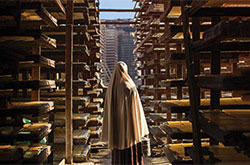 Original Name: Ward Masmoum
English Name: Poisonous Roses
Year: 2018
Run Time: 70'
Language: Arabic
Type (Colour/ Black & White): Colour
Country: Egypt, France, Qatar, United Arab Emirates
Director: Ahmed Fawzi Saleh
Producer:  Karim Aitouna, Thomas Micoulet, Eman Hameda,
Cast: Koky, Mahmoud Hemada, Ibrahim El-Nagary, Safaa El-Toukhy, Mohamed Brekaa.
Screenplay: Ahmed Fawzi Saleh
Cinematographer: Maged Nader
Editor: Qutaiba Barhamji, Mennatallah El Shishini, Nadia Ben Rachid.
Sound Designer: Sara Kaddouri
Costume Designer: Lina Aly
Production Designer: Omar Abdul Wahab
Production Company: Al Batrik Art production, Haut Les Mains Production, Red Star Films
World Sales: Haut Les Mains Production
World Sales Phone: +33668175187
World Sales Email: karim@hautlesmainsproductions.fr
Festivals:
Rotterdam IFF 2018
São Paulo IFF 2018
Buenos Aires Festival Internacional de Cine Independiente 2018
Cairo IFF 2018
Selected Filmography:
Living Skin (Short Doc) 2011
Poisonous Roses 2018
Director's Biography:
Fawzi Saleh is a. Egyptian filmmaker, and human rights activist. He graduated from the Cairo Film Institute (2009) in screenwriting. He contributed to many documentary films as a researcher, and co-writer and worked as an assistant director on various films, and TV shows. His short documentary Living Skin (2011) was screened in many international film festivals. His feature Poisonous Roses was premiered at Rotterdam (2018).
Synopsis
Twenty-eight-year-old Taheya works as a washroom cleaner, and lives with her 22-year-old brother Saqr in a tannery neighbourhood. While Saqr has plans to find a life outside his hellish job in one of the tanneries, Taheya hopes to keep him near her. Despite his love for his sister, Saqr does not bow to the pressure she puts on him and begins a relationship with Nahed, a young medical student. Despondent at the new distance between herself and her brother, Taheya turns to magic to bring Saqr back and threatens to kill Nahed. When Saqr returns, Taheya seems happy despite the coldness between them – but she cannot escape the idea that her brother still wants to abandon her.