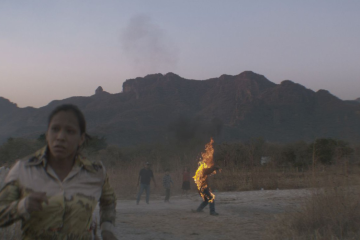 Original name: Manto De Gemas
English name: Robe Of Gems
Year: 2022
Run time: 118 Minutes
Language: Spanish
Type (Colour/ Black & white): Colour
Country: Mexico, Argentina
Director: Natalia López Gallardo
Producers: Fernanda De la Peza, Joaquín del Paso, Natalia López Gallardo
Cast: Nailea Norvind, Antonia Olivares, Aida Roa, Daniel García, Sherlyn Zavala, Balam Toledo, Ventura Rendón, Mónica Poggio, Ramón Nakash
Screenplay: Natalia López Gallardo
Cinematographer: Adrián Durazo
Editor: Natalia López Gallardo, Omar Guzman, Miguel Schverdfinger
Sound Designer: Thomas Becka, Guido Berenblum
Music Composer: Santiago Pedroncini
Production Company: Lobo En Medio De Lobos, Cárcava
World Sales: Visit Films

Festivals:
Berlinale 2022
San Sebastián IFF 2022
São Paulo IFF 2022
BFI London FF 2022
Thessaloniki IFF 2022
Director's Selected Filmography:
2005 Taste (Short)
2005 In Heaven As It Is On Earth (Short)
2005 Escena para un dormitorio (Short)
2004 Artificio (Short)
Director's Biography: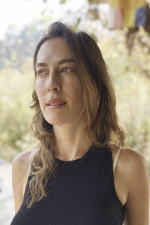 Natalia López Gallardo is a Mexican-Bolivian film director, writer, editor, and occasional actress. She studied cinema in México and has edited films by Lisandro Alonso, Carlos Reygadas and Amat Escalante, among other directors. She heads the high-end post-production studio Splendor Omnia, near Mexico City. She was nominated for Best Editor at the 2008 Ariel Awards for Silent Light and Best Editor at the 2015 Fénix Film Awards for Jauja and Heli. As a director, her short film In heaven as it is on Earth was selected to Critics' Week at the 2007 Cannes FF. Robe of Gems, is her feature debut.
Synopsis:
In the midst of a silent divorce, Isabel leaves the city with her two children for her family's abandoned country house. She soon discovers that the sister of her housekeeper, María, has gone missing. When Isabel offers her help, an unspoken pact to find the missing one is born between the two women. Meanwhile, Roberta, the police commander in charge of the investigation, tries to get her son out of the cartels. The countryside is mined with confusion and danger, but regardless of these circumstances, determination in the face of destiny subsists.