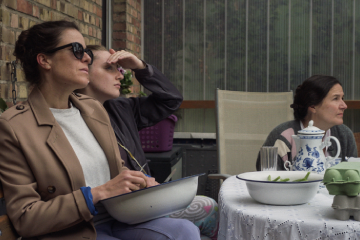 Original name: Alle Reden Übers Wetter
English name: Talking About The Weather
Year: 2022
Run time: 89 Minutes
Language: German
Type (Colour/ Black & white): Colour
Country: Germany
Director: Annika Pinske
Producers: Luise Hauschild, Mariam Shatberashvili
Cast: Anne Schäfer, Anne-Kathrin Gummich, Judith Hofmann, Marcel Kohler, Max Riemelt
Screenplay: Annika Pinske, Johannes Flachmeyer
Cinematographer: Ben Bernhard
Editor: Laura Lauzemis
Sound Designer: Rainer Gerlach
Music Composer: Maria Kamutzki
Production Company: Deutsche Film & Fernsehakademie Berlin, New Matter Films, Pennybooth Productions
World Sales: Films Boutique

Festivals:
Berlinale Panorama 2022
Brussels IFF 2022
Prague IFF 2022
Director's Selected Filmography:
2016 Change (Short)
2016 Homework (Short)
2015 Anyways (Short)
Director's Biography: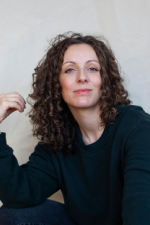 Annika Pinske grew up in Frankfurt/Oder. Parallel to her studies in philosophy and literature she worked for theatre director René Pollesch, followed by a creative assistance to German film director Maren Ade (Toni Erdmann). In 2011, she started studying film directing at the German Film- and Television Academy Berlin (DFFB). Her short films were awarded and screened worldwide, such as Anyways (Nomination German Short Film Award 2015) and, Homework (Winner German Short Film Award 2016) . Talking About The Weather is her graduation film at the DFFB.
Synopsis:
Clara has made it: she has got away from her native provincial East Germany, now living a bohemian life in Berlin, teaching philosophy while finishing her Ph. D. Between an affair with one of her students and her testy friendship with her thesis advisor Margot, she barely has time to see her 15-year-old daughter, who mostly lives with her ex. But when Clara visits her mother for a weekend, she finds herself confronted with her ideal of an unfettered, self-determined life. How high is the price she must pay for it?