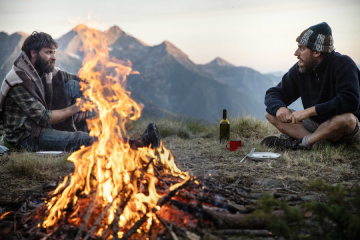 Original name: Le Otto Montagne
English name: The Eight Mountains
Year: 2022
Run time: 147 Minutes
Language: Italian
Type (Colour/ Black & white): Colour
Country: Italy, Belgium, France
Director: Felix van Groeningen, Charlotte Vandermeersch
Producers: Mario Gianani, Lorenzo Gangarossa
Cast: Luca Marinelli, Alessandro Borghi, Elena Lietti, Filippo Timi, Elisabetta Mazzullo
Screenplay: Felix van Groeningen, Charlotte Vandermeersch
Cinematographer: Ruben Impens
Editor: Nico Leunen
Sound Designer: Alessandro Palmerini
Music Composer: Daniel Norgren
Production Company: Wildside, Rufus, Menuetto, Pyramide Productions, Vision Distribution
World Sales: Vision Distribution

Festivals:
Cannes Main Competition 2022
Sundance Spotlight 2023
Busan IFF 2022
Melbourne IFF 2022
Thessaloniki IFF 2022
Karlovy Vary IFF 2022
Director's Selected Filmography:
Felix van Groeningen
The Misfortunes (2009)
Broken Circle Breakdown (2012)
Belgica (2016)
Charlotte Vandermeersch
2022 The Eight Mountains
Director's Biography: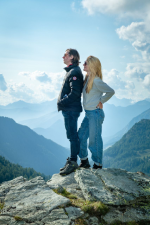 Felix van Groeningen, Charlotte Vandermeersch are a Writer – Director duo in Belgian cine industry, with a plethora of individual and collaborative achievements. Felix is well known for his writing – directing wok on films like The Misfortunes (2009) which was in Director's Fortnight at Cannes, Charlotte is a well-known actor, singer, and writer, who collaborated with Felix as a writer on Broken Circle Breakdown (2012) which was successful across the globe while earning a nomination at Oscars. She also has acted in multiple award-winning projects, and writes music, performs with a band too. The Eight Mountains is their first collaborative directing work.
Synopsis:
The Eight Mountains is the story of a friendship. Of children becoming men who try to erase the footprints of their fathers, but who, through the twists and turns they take, always end up returning home. Pietro is a boy from the city, Bruno is the last child of a forgotten mountain village. Over the years Bruno remains faithful to his mountain, while Pietro is the one who comes and goes. Their encounters introduce them to love and loss, reminding them of their origins, letting their destinies unfold, as Pietro and Bruno discover what it means to be true friends for life.