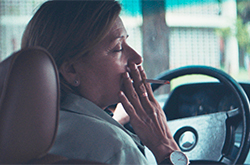 Original name: Las Herederas
English name: The Heiresses
Year: 2017
Run Time: 95'
Language: Spanish
Type (Colour/ Black & White): Colour
Country: Paraguay, Germany, Brazil, Uruguay, Norway, France
Director: Marcelo Martinessi
Producer: Sebastian Pena Escobar, Christoph Friedel, Fernando Epstein, Agustina Chiario, Julia Murat, Hilde Berg, Marina Perales, Xavier Rocher
Cast: Ana Brun, Margarita Irún, Ana Ivanova 
Screenplay: Marcelo Martinessi
Cinematographer: Luis Armando Arteaga
Editor: Fernando Epstein
Sound Designer: Rafaez Alvarez
Production Company: La Babosa Cine, Pandora Film Produktion, Esquina Producoes Artisticas, Mutante Cine, Norsk Filmproduksjon , La Fábrica Nocturna
World Sales: Luxbox
World Sales Phone: + 33 171 37 99 34
World Sales Email: festivals@luxboxfilms.com
Festival:
Berlinale 2018
MAMI Mumbai 2018
San Sebastian IFF
Stockholm IFF 2018
Selected Filmography:
Karai Norte (Short) 2009
KCalle Última (Short) 2011
KEl Baldío (Short) 2013
KLa Voz Perdida (Short) 2016
Director's Biography:
Marcelo Martinessi was born in 1973 in Asunción (Paraguay). He studied communication at the Catholic University of Asunción, and cinema at the London Film School. His short films that revolve around literature, and memory have been shown at the Berlinale, Clermont Ferrand, Kinoforum among other festivals. He was executive director of the first public TV in his country, from the beginning of the project in 2010 until the coup d'état of June 2012. Capturing his nation's trauma during that political chaos he wrote and directed La Voz Perdida, Best Short Film at Venice Film Festival in 2016.
Synopsis
Chela and Chiquita, both descended from wealthy families in Asunción, Paraguay, have been together for over 30 years. But recently their financial situation has worsened and they begin selling off their inherited possessions. But when their debts lead to Chiquita being imprisoned on fraud charges, Chela is forced to face a new reality.

Driving for the first time in years, she begins to provide a local taxi service to a group of elderly wealthy ladies.

As Chela settles into her new life, she encounters the much younger Angy, forging a fresh and invigorating new connection. Chela finally begins to break out of her shell and engage with the world, embarking on her own personal, intimate revolution.