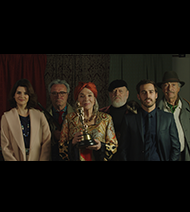 Original Name: El Cuento de las Comadrejas
English Name: The Weasel's Tale
Year: 2019
Run Time: 129'
Language: Spanish
Type (Colour/ Black & White): Colour
Country: Argentina, Spain
Director: Juan José Campanella
Producer: Juan José Campanella, Gerardo Herrero, Axel Kuschevatzky
Cast: Clara Lago, Oscar Martínez, Graciela Borges
Screenplay: Juan José Campanella, Darren Kloomok
Cinematographer: Félix Monti
Editor: Juan José Campanella
Sound Designer: José Luis Díaz
Music Composer: Emilio Kauderer
Costume Designer: Cecilia Monti
Production Designer: Nelson Noel Luty
Production Company: 100 Bares, Tornasol, Jempsa
World Sales: Latido films
World Sales Phone: +34 915 488 877
World Sales Email: latido@latidofilms.com

Festivals:
San Sebastian FF 2019
Ventana Sur 2019
IFFI 2019
Valladolid IFF 2019
Selected Filmography:
2014 Halt and Catch Fire
2009 The Secret in Their Eyes
2004 Moon of Avellaneda
2001 The Son of the Bride
Director's Biography:
Juan Jose Campanella (born July 19, 1959) is an Argentinian film and television director. He has won 45 international awards for his work. He is best known for writing and directing The Secret in Their Eyes, which won the Academy Award for Best Foreign Language Picture. Campanella mostly works on films in his native Argentina, and on television projects in the United States, where he went to film school. He has worked on hit American TV shows like Law & Order: SVU, 30 Rock, House MD and Strangers with Candy.
Synopsis:
A beautiful star from the cinema Golden Age, an actor in the twilight of his life, a witty scriptwriter and a cunning director live together in a mansion where they have created an unusual environment. The arrival of a young couple seeking to persuade the actress to sell the house, forces the other inhabitants to come together and conspire to prevent it.