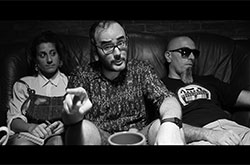 Original Name: Too Much Info Clouding Over My Head
English Name: Too Much Info Clouding Over My Head
Year: 2018
Run Time: 105'
Language: Greek
Type (Colour/ Black & White): Black & White
Country: Greece
Director: Vasilis Christofilakis
Producer: Eleni Petritsi
Cast: Vasilis Christofilakis, Kitty Paitozoglou, Nicol Drizi, Elena Ouzounidou
Screenplay: Vasilis Christofilakis
Cinematographer: Pavlos Mavrikidis
Editor: Giorgos Alefantis
Sound Designer: Manolis Manousakis
Music Composer: Konstantinos Evangelidis
Production Designer: Tasos Gouriotis
Production Company: Atmosphere People
World Sales: Atmosphere People
World Sales Phone: +30 210 6467054
World Sales Email: atmosphereppl@gmail.com
Festivals:
Thessaloniki IFF 2018
Buenos Aires IFF 2018
Alexandria IFF 2018
Cyprus Film Days IFF 2018
ECU Paris FF 2018
Selected Filmography:
Too Much Info Clouding Over My Head (2018)
Director's Biography:
Vassilis Christofilakis is an actor, director, stand-up comedian and writer who grew up in Athens, Greece. He studied film in the UK and worked in Greek theatre as a director and playwright for several years. He has directed works of various writers such as Tennessee Williams, Fernando Arrabal, Alejandro Jodorowski, Steve Thompson and others. Too Much Info Clouding Over My Head, a black and white smart comedy, which is his acting and directorial debut, won 3 awards at Thessaloniki IFF.
Synopsis
After the failure of his previous film, Gay Nazi Cyborg Zombies in Love, Vasilis will do whatever it takes to earn money for his next film. Meanwhile, those around him will fill the young, anxious director with concerns, and he will barely be able to survive in this hilarious Greek comedy.