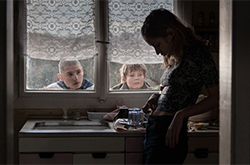 Original name: Všechnobude
English name:Winter Flies
Year:2018
Run time:85mins
Language: Czech
Type (Colour/ Black & white):Colour
Country: Czech Republic
Director: OlmoOmerzu
Producer: JiříKonečný
Cast: TomášMrvík, Jan FrantišekUher, EliškaKřenková, LenkaVlasáková,Martin Pechlát
Screenplay: Petr Pýcha
Cinematographer: LukášMilota
Editor: Jana Vlčková
Sound Designer: Daniel Němec
Music Composer :ŠimonHolý, Monika Midriaková, PawełSzamburski
Costume Designer: MarjetkaKürnerKalous, Anna Marešková
Production Designer: Antonín Šilar
Production Company: Endorfilm
World Sales: Cercamon
World Sales Phone:+ 971566063824
World Sales Email: sebastien@cercamon.biz
Website of the Film: www.cercamon.biz
Festival:
Karlovy Vary IFF 2018
BFI London Film Festival (UK) 2018
IFFI, Goa 2018
Tallinn Black Nights Film Festival2018
Toronto IFF 2018
Selected Filmography
2008 The Second Act
2011 A Night Too Young
2016 Family Film
Director's Biography:
OlmoOmerzu (Ljubljana, 1984) studied at the FAMU in Prague, where he directed several short films and a 40-minute feature film, The Second Act (2008), screened, and awarded prizes at several festivals.Omerzu graduated from the FAMU with his first fiction feature A Night Too Young(2011). The film premiered atBerlinale (2012) and went on to win many awards at multiple festivals. In 2016, he directed Family Film which premiered in San Sebastian.Winter Flies is now is latest Feature having its world premiere at Karlovy Vary IFF. It's Czech Republic's official entry to Oscars 2019.
Synopsis
On a bright, wintry day, cherubic and ingenuous Heduš catches doe-eyed friend Mára and his stolen car in his BB gun's crosshairs. He spontaneously decides to accompany Mára on a journey without destination. Two curious teenagers barely old enough to see the reality that lies beyond their dashboard, they heedlessly take on the adventures that come their way, from rescuing a canine companion from drowning to picking up their instant teenage crush, hitchhiker Bara.

The picaresque journey is told in counterpoint to Mára's interrogation by small-town cops. With each episode recounted bringing the story closer to the present arrest, Heduš and Mára's future remains theirs to be written.