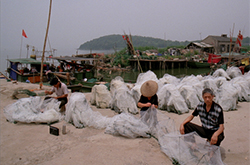 Original Name: Wode Jingtou
English Name: Chinese Portrait
Year: 2018
Run Time: 79'
Language: Chinese
Type (Colour/ Black & White): Colour
Country: Hong Kong
Director: Wang Xiaoshuai
Producer: Isabelle Glachant, Liu Xuan
Cinematographer: Wu Di, Zeng Jian, Zeng Hui, Piao Xinghai
Editor: Valérie Loiseleux
Sound Designer: Valérie Loiseleux
Production Designer: LV Dong
Production Company: Front Films Co LTD, Chinese Shadows
World Sales: Asian Shadows
World Sales Phone: +86 13602721891
World Sales Email: lya@chineseshadows.com
Festivals
Busan IFF 2018
Taipei Golden Horse 2018
IDFA 2018
Selected Filmography:
Beijing Bicycle 2001
Drifters 2003
Shanghai Dreams 2005
In Love we Trust 2007
Chongqing Blues 2010
Director's Biography:
Born in Shanghai, controversial Beijing Film Academy graduate Wang Xiaoshuai studied art before filmmaking. His Filmography includes Frozen (1995), So Close to Paradise (1998), Silver Bear-winner Beijing Bicycle (2001), Drifters (2003), Shanghai Dreams (2005), In Love We Trust (2009), Chongqing Blues (2010) and Red Amnesia (2015). He is one of the most important contemporary film directors from China. He was named to France's Ordre des Arts et des Lettres in 2010.
Synopsis
What if you were a passer-by in the Beijing streets, a peasant hoping for the rain to fall, a steelworker in disappearing factories, a tourist on a packed beach, praying in Ningxia or Qinghai, a construction worker after an earthquake, a fisherman repairing his fishnet, or a dancer waiting to get on stage? It is a personal contemporary portrait of a country, a population and a society.